Happy Halloween!!
The gym WOD came today as "Popeye" 10 Rounds: 200 Meter Row 5 Strict Pull-Ups
Many others dressed up too!  Great costumes, everyone!  Thank you for bringing your fun spirit to the gym today!
Such great support, Tyler! Love having you here, an active and encouraging part of our community!
This one wins the prize! Great job nailing Lindsay to a T, Dana!
Flagstaff Halloween events to partake in:
#1 Halloween Harvest - Downtown Flagstaff
Halloween Harvest is one of the best places to go trick-or-treating. It was voted 2009's "Most Outstanding Community Event" by the Arizona Parks and Recreation Association because it's fun, it's safe and super entertaining for all ages. Even if you are not of trick-or-treating age anymore, go have dinner or a drink downtown and enjoy the view of little princesses and zombies walk by.
Festivities include the following:
Phantom Pumpkin Patch
Creepy Carnival Games
Chilling Crafts
Freaky Fashion Show
Twisted Trick or Treat Trail
Spooky Music
Children should bring their Halloween bags and visit local businesses for candy on our downtown Twisted Trick or Treat Trail.
#2 Haunted Flagstaff Walking Tour
Did you know that Flagstaff is one of Arizona's most haunted areas? There are legends of bank robbers who didn't make out of here alive, saloon ladies of the night being murdered, interesting hotel guests who are yet to check out, among many other tales still being told because, well, paranormal things keep happening in locations throughout the town. Seasonal guided tours of the haunted buildings in historic downtown depart from the Flagstaff Visitor Center, by reservation.
#3 Viola's Haunted Garden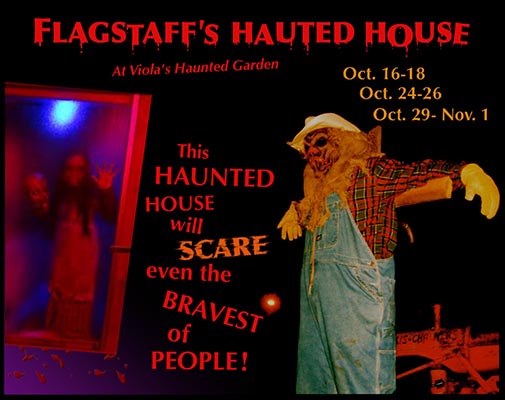 Don't be fooled by Viola's beautiful flower garden as there's something not quite right growing there as well. They say it'g fear. ,This Flagstaff haunted house has over thirty actors who can't wait to terrify you. Every October, Viola's Flower Garden transforms into Viola's Haunted Garden, a premier spot for Halloween fun. You will find a variety of seasonal events, from the family-friendly Kids Carnival, to the terrifying Fear Garden haunted house. And of course, their yearly Pumpkin Patch!
#4 Pumpkins in the Pines at Hitchin' Post Stables
Take a hay ride with your family and friends into the pines followed by some pumpkin carving or even a visit to the petting zoo. Enjoy beverages and food out in some beautiful country off Lake Mary Rd. Other activities include a hay maze, pony ring and more!
#5 Pumpkin Patch Train - Grand Canyon Railway
Kids and parents! Dress up in your awesome Halloween costumes and catch the train to the great pumpkin event. The Grand Canyon Railway is taking you on a fairytale ride through the countryside to a secret pumpkin patch that can only be found by riding this train! (Think Hogwarts, so perhaps a flying car would work as well.) Pick a special pumpkin of your choosing and then be sure to decorate it when you arrive back at the Grand Canyon Railway Depot in Williams. There will also be a free, walk-through Haunted Train Car, a hay bale maze, and pumpkin arts and crafts at the Williams Depot.